Besides great effects for health then Ganoderma also known as the "elixir" for beauty. Using Ganoderma mushrooms is the secret to beautifying the skin and slim for women.
His father had the phrase "best body, second skin" enough to show the importance of skin and physique for each person, especially for women. A dull skin, many wrinkles, acne, ... or a slim physique makes women lack confidence in their unattractive beauty. Therefore, using Lingzhi herbal medicine has a beauty effect for both skin and body is attractive to many people.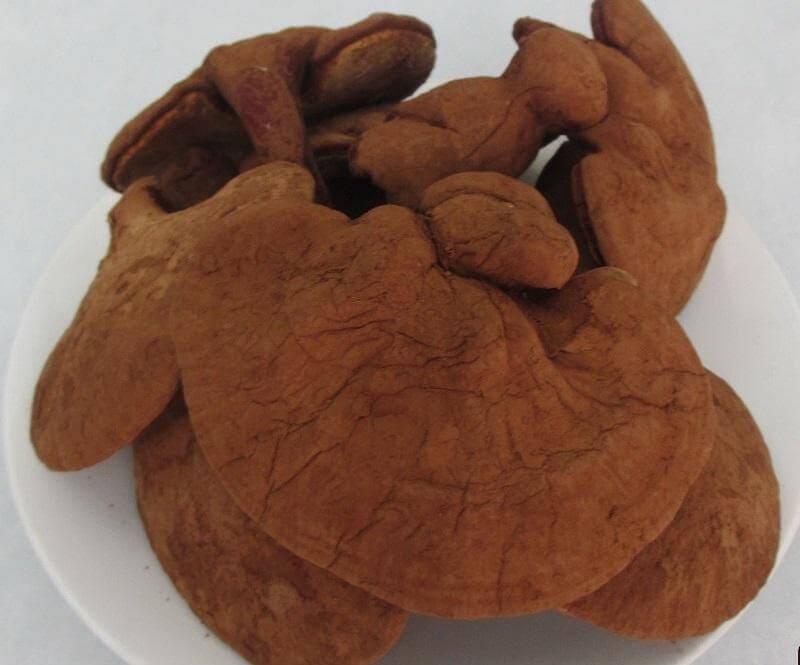 Ganoderma has many effects for health and beauty
Ganoderma and unexpected effects for the skin
Ganoderma contains hundreds of active ingredients that work well for many organ systems as well as for the skin. Therefore, they are used as a secret to help care for the skin better.
Against aging
According to many studies have shown, in the composition of Lingzhi contains high SOD. SOD - Superoxide dismutase is an enzyme that has a positive effect against wrinkle formation. This active substance has the effect of eliminating free radicals, which prevent the oxidation of fats.
Ganoderma lucidum is effective in protecting cells and delaying aging. In particular, the presence of 2 components: Polysacharides and Polypeptides in Lingzhi has enhanced DNA synthesis in the cell nucleus. This overproduction reduces and fights aging from deep within. In addition, ganodemic acid has the effect of rejuvenating cell and body tissue. Therefore, using Lingzhi helps to maintain youthful skin for women.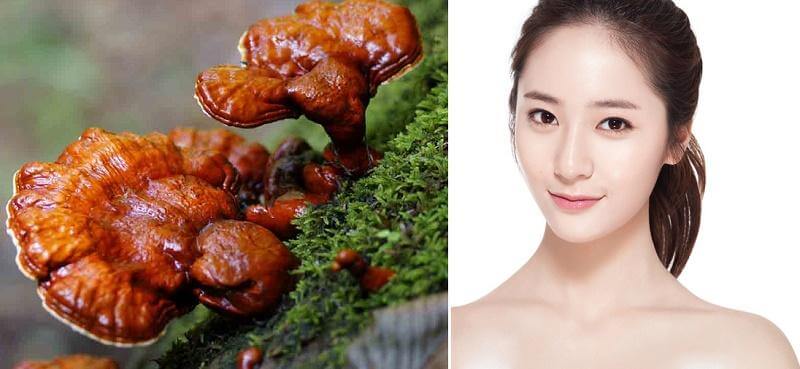 Anti-aging and beautiful skin with Lingzhi mushrooms
Nursing, beauty skin
Besides anti-aging, Ganoderma also works to help maintain skin moisture and create a soft feel to the skin even in dry seasons. Ingredients vitamins (B, C, ...) and many minerals and trace elements in Lingzhi have the effect of nourishing the skin from the inside and shining beautifully outside.
Using Ganoderma also works to fade pigmentation spots, freckles, good for acne-prone skin, overcome skin disorders as well as prevent skin allergies, ...
Slender with Lingzhi mushrooms
Using reishi mushrooms not only beautifies the skin but also helps with weight loss and anti-obesity. The ingredients in Ganoderma have a prominent effect in promoting metabolism, fast fat burning. At the same time, they are effective in reducing the formation of fat cells, helping the body to detox.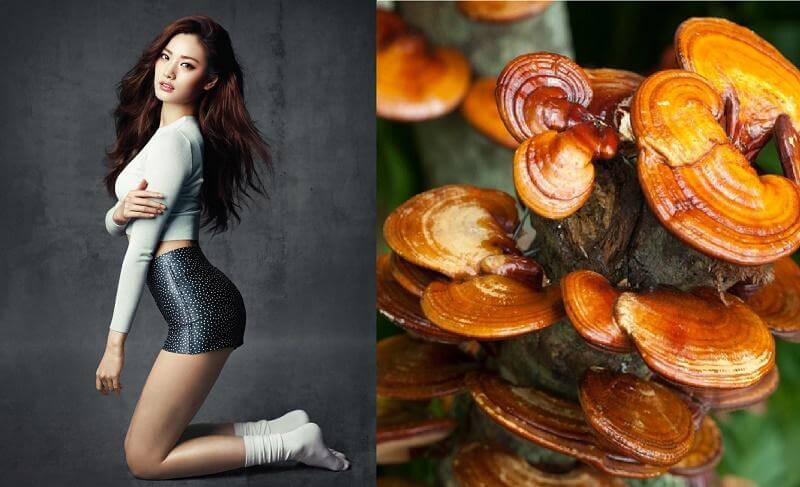 Ganoderma works to reduce weight and fight obesity
Besides, Lingzhi helps to reduce cravings. Therefore, using Ganoderma help women get slim, slender physique. In particular, anti-obesity also reduces the risk of many cardiovascular diseases very well.
With Ganoderma Weight Loss is Just A Trivia
How to use Ganoderma for simple beauty
Using Ganoderma to cook drinking water or apply a mask is the simplest way. Can be done in 2 ways:
Method 1: Use sliced Lingzhi mushrooms
+ Put 5-7g of Lingzhi sliced and 1,5 liters of water in a pot and simmer
+ Boil for about 15 minutes until the water decreases ⅓ then turn off the heat
+ Get some water for some pots
+ Add water to the boil again with the pulp 2 times and strain together 3 water
+ Close the jar and keep the refrigerator cool and drink gradually.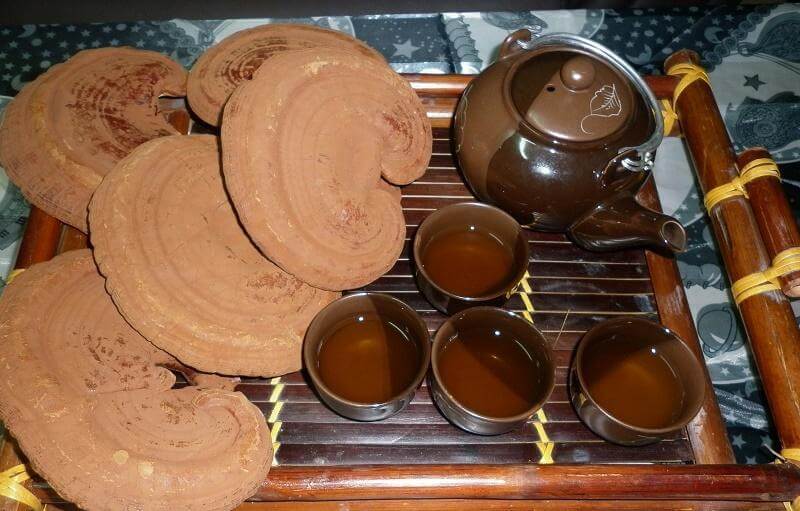 Lingzhi tea has many effects
Method 2: Use Ganoderma mushroom powder
+ Use 5-7g Linh Chi mushroom powder mixed with 1.5-2 liters of boiling water
+ Cover the lid for about 30 minutes and then let it cool
+ Drink gradually water and mushroom residue
+ Drinking Ganoderma juice is not only beautiful for skin, slim from inside but also good for health. They help strengthen the immune system of the body, good for the nervous system, respiratory, circulatory, reduce cholesterol, prevent and support the treatment of many diseases, support cancer prevention, ...
Applying Lingzhi mushroom mask
For reishi mushroom face, you can only use the powdered form. Using some of the accompanying ingredients such as Lingzhi - chicken eggs, Lingzhi - honey, yogurt, ... all increase the beauty as well as the skin care of this herb.
Use them to mix together in a certain proportion to create a smooth mixture. Then use it on your face and relax for about 30 minutes. Finally, wash your face and massage gently to better absorb nutrients.
How to Make Ganoderma Mask How to Help White Skin Pink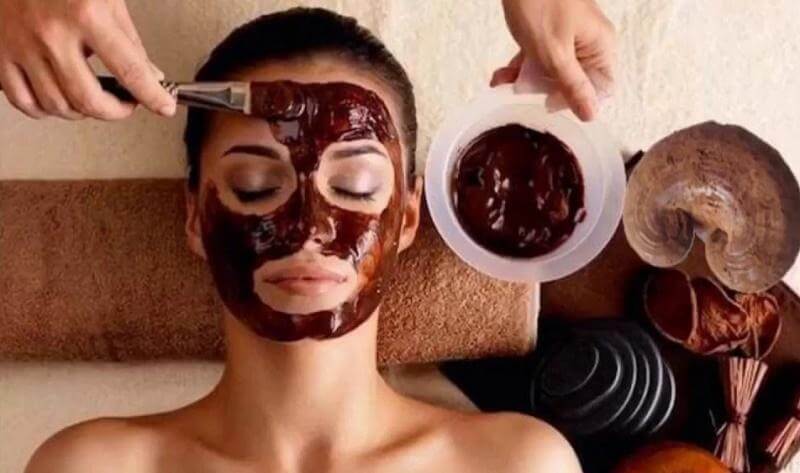 Apply mask with Lingzhi mushroom powder
Use Ganoderma mushrooms Pay attention to choose the right quality mushrooms. Whereby, Ganoderma mushrooms - Former Member of Agriculture and Forestry Business Incubation Center is a prestigious brand and location. Mushrooms products of the brand on quality assurance, active ingredient content, ... and achieved CCI International Certificate 2015, certified food hygiene and safety, certification of high quality Vietnamese goods. This is also a brand chosen by many consumers.
Related posts