Recently, many Central and local newspapers have written articles about the "fever" to exploit ancient Ganoderma mushrooms by farmers, leaving agricultural production and chasing after reishi mushroom exploitation.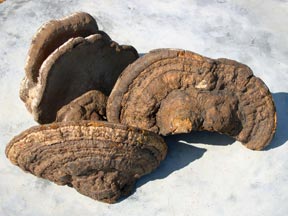 The fever of "Lingzhi" Ganoderma day by day is busy and busy. People who buy mushrooms are selling very comfortably throughout the streets of Quy Nhon. Mushrooms are harvested in the provinces of Gia Lai (An Khe), KomTum, in the midland and mountainous districts of Binh Dinh. The highest amount is VND 100,000 / kg. Those who sell Ganoderma even without knowing the origin of the mushroom always affirm that this mushroom is only attached to the Xay tree. But in fact, buyers keep buying but they do not know what kind of fungus the fungus attaches to, in which land? Is it harmful?
If Ganoderma is true and true, it has many names: Van Nam mushroom, Fairy mushroom, Diem heal, Huyen grass ... currently the name Ganoderma is widely popular. Clinically in treatment, Ganoderma lucidum has a positive supportive effect in treating a number of chronic medical diseases such as the immune system, cardiovascular (in atherosclerosis and high blood pressure), in general digestive, neurological and especially in chronic respiratory pathology ...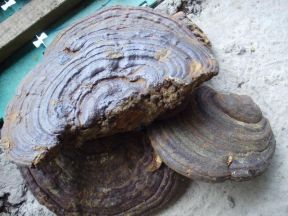 Ganoderma ancient, scientific name is Ganoderma applanatum (Pers), Pat. A very strong wood-breaking fungus, the fungus lives like a giant propeller, hardwood colored ironwood. There are mushroom blocks, with a diameter of 0.6-0.8m in length, 0.4-0.6m in width. The umbilical cord is deeply sunken, lumpy, the color is uneven in the dark brown, the place is gray. The most frightening thing is that the protruding convex side of the mushroom stem (navel) has a milky white mold attached to it and watch out for mold that has become moldy; if used it is like a double-edged sword, (I have asked permission from the person who has the mushroom mass to take photos to send to the in-depth study of fungi for advice on their use).
Ms. Le Hong T., a lecturer of Chemistry at Quy Nhon University of Education, met with us to discuss the pathological group of dioxin sequelae used by the US during the Vietnam War. Because it was such a difficult topic, I made an appointment to send her at another time and gave her documents on the topic "Can Ganoderma be cured?" by Master Co Duc Trong. The article has analyzed and synthesized very good physical and chemical properties. Because Le Hong T. has a mother with a very serious chronic kidney disease, she has treated too much modern medicine but it has not recovered. For a long time, her mother switched to drinking too many kinds of Lingzhi, but the disease has not improved. As a chemistry subject teacher, she is also very worried about the later reactions for her mother.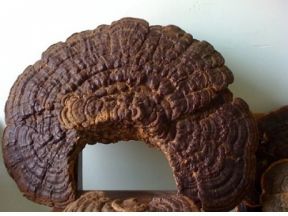 Currently in Quy Nhon, there are many Eastern medicine clinics and sellers always introduce themselves as valuable mushrooms taken in deep forests, and introduce X and Y patients who have been cured of liver cancer. , throat cancer. But in fact, those patients, as far as I know, they have used Lingzhi mushrooms with the price of 7-10 million VND 1kg or more but they still have to go to Ho Chi Minh City Cancer Hospital every month to receive radiation. Chemotherapy, prognosis how still follow.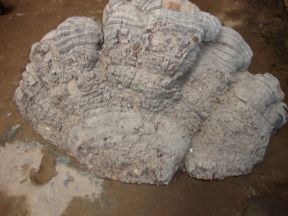 Tan Hoa Oriental Medicine Clinic at 60 Nguyen Hue Quy Nhon street told us that the clinic has just bought a series of Ganoderma mushrooms from the West for a price of 100,000 - 150,000 VND / kg. After processing, the finished product had suspicious mushrooms that did not dare to be sold to the sick, among them I was considered to have two slightly strange mushrooms with the ridges of an overly sparse and an elephant-shaped fungus. , also known as elephant foot fungus, the colors of two different mushrooms, look very "hung". We would like to thank the Eastern medicine clinics across the country for their mind and ethics for the safety of the sick so when we have doubts about the mushrooms that we have missed, we decided not to sell them anymore. suffering for the sick.
Lingzhi mushrooms are also many, but there are many fake mushrooms. When the Ganoderma "fever" continued to increase and decrease, how harmful it was when we only heard word of mouth, abusing the "superior medicine god" from the Ming, Ly, and Tran dynasties ... It is not enough time to determine the scientific name of floating mushrooms, to find toxic and non-toxic active ingredients, and in epidemiology, where do the mushrooms reproduce? On the other hand, clinically, we are afraid of slow blood-borne allergies in those who have used mold Ganoderma mold and what will happen when money loss takes place?
Please be cautious and wary of using ancient reishi mushroom!
Bs. Trang Xuân Chi
"According to Oriental Medicine"
FARMING AFFILIATES
CREATIVITY AT THE CENTER OF TECHNOLOGY ENTERPRISES
 HCMC AGRICULTURE UNIVERSITY HCM
Number 14, Street N1, Kp. 6, P. Linh Trung, Q. Thủ Đức, Tp. Ho Chi Minh
(Inside Ho Chi Minh City University of Agriculture and Forestry)
Phone: 028. 7107 6668 - 0938 877 743
See also other good articles of Ganoderma at the category Mushrooms with health.
Related posts