Mô tả chung
GENERAL DESCRIPTION
Product name: Great Apple (Apple sugar, American apple, Black apple ...)
Other names: Jujube, Black Apple, Can Apple, My Apple, Luong Apple ...
Scientific name: Zizyphus sativa Mill. Belong to the Rhamnaceae apple family.
Made in Viet Nam.
Date of manufacture: Please see on the package.
Expiry date: 1 year from the manufacturer
Preserved in dry, cool place.
USES
The apple contains a lot of B vitamins, precursors of vitamin A, E, fiber, minerals, glucides, lipids, organic acids in high levels. The apple is considered a high-energy product, favored by foodies because of its characteristic flavor, easy storage and long-term retention.
Many studies have shown that Great apple is really a great herb for human health, the effect of Great apple is also confirmed by the trust of many years of leading medical experts. typically, "National physician", Nhan Chinh Hoa, a professor and doctor at Beijing Traditional Medicine University and a famous doctor in the field of traditional Chinese medicine, he is 99 years old this year. A lot of experience. He has 79 years of dedication to medicine and saved countless lives. Many trusted news sites have given him information as well as the great benefits of using Great Apple ...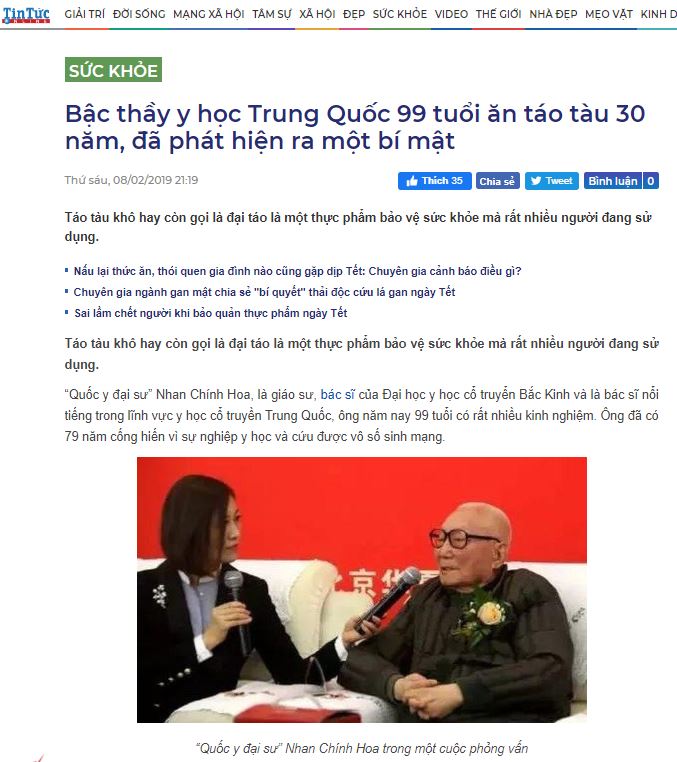 Doctor Nhan Chinh Hoa is a long-lived person. Although he is 99 years old, his body is still very healthy, his ruddy face, bright eyes, clear mind, can still go to the clinic and take part in health check-ups for patients. all normal activities he can do by himself.
When asked about the secret of longevity, Nhan revealed that he normally ate jujube and he had eaten for over 30 years. Mr. Nhan usually eats about 5-10 dried jujubes every morning, which is beneficial for the gas, nourishes blood and has a calming effect on nerves.
Dr. Nhan Chinh Hoa said that the method of eating jujube for many people is often lacking a step. That is when eating cooked jujube, the skin of the apple should be removed, after removing the shell only eat meat inside the apple, and can drink more soy milk. He reminded many elderly people when eating apples to pay certain attention to peeling. Although apple skin also has certain nutrients, it is not easily digested, especially when eating in excessive amounts.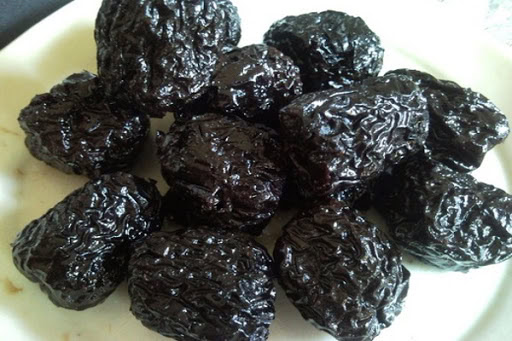 According to Oriental medicine, the sweetness of the jujube has a beneficial effect on the spleen, nourishes the sedative, effectively treats people who are weak, eat less, dilute stool, fatigue, insufficient blood, heart palpitations; apples can harmonize herbs, alleviating the irritation and toxicity of some medications. If there is no disease, eating apples is also very beneficial as in "The god of the agriculture manuscript," said: That means eating a lot of apples makes the body elegant, healthy and long.
"Excerpt from the article: A 99-year-old Chinese medicine master ate jujube for 30 years, uncovering a secret -tintuconline_com_vn"
Some of the main effects when using Great Apple as follows:
Eastern medicine uses apples to treat insomnia, because both meat and apple seeds contain a lot of saponins. This type of substance is considered to stimulate the natural sleep.
The high fiber content in apples can help regulate bowel movement and digestion. An amount of apples by the palm of your hand can help improve constipation effectively.
Helping mental comfort, reduce anxiety, stress
Great apples have been shown to have a soothing effect on the brain and nervous system and help alleviate anxiety. The soothing effect of the apple is exerted at the hormone level to create a calming and relaxing sensation for the brain.
Great apples contain a lot of vitamin C and other essential natural antioxidants. Therefore, Apple has the effect of strengthening the skin, fighting free radicals and strengthening the immune system.
Support blood pressure, blood circulation
Great apples are low in sodium and high in potassium, so giuso ensures good blood pressure control. In addition, the rich source of iron and phosphoruos of apples also help regulate blood circulation.
The phenol ingredient extracted from apples can also prevent cancer, as it can enhance antioxidant activity. In addition, vitamin C and some other antioxidants in apples also help eliminate free radicals, prevent cancer formation effectively.
In addition to good for the skin, Great apple is also good for hair. A study has found that an essential oil from the apple seed can promote hair growth, stimulate hair regrowth and thicker than before.
HOW TO USE
Using 7 - 10 great apples combined with 7 - 10g Ganoderma (or Green Lim, Thuong Hoang, ...) cook with 2 liters of water within 45 minutes. Great apple will help taste better and regulate the taste of the drug helps to complement the spleen, neutralize the qi.
Great apple is very delicious, so it is often eaten by traditional Chinese medicine like candies. People in medicine often use black apples to treat guests instead of traditional jams. Just limiting sugar but also helps strengthen the body, ...
Using great apples to cook soup, chicken with traditional Chinese medicine, chicken with mushrooms, Lingzhi, ...
Use the sweetness of apples to replace sugar in everyday foods
ATTENTION: Every day use from 5 to 20 apples. Recommended to use no more than 20 fruits in a day.
Products of Linh Chi Nong Lam are selected and packaged in accordance with standards of preservation and food safety, which will bring the highest efficiency for customers.
FARMING AFFILIATES
NGUYEN MEMBER CENTER FOR CREATING TECHNOLOGY ENTERPRISES
HCMC AGRICULTURE UNIVERSITY HCM
Số 14 Đường N1, KP 6, Linh Trung Ward, Thủ Đức District, Tp.HCM
Tel: 0909 737 743 - 0938 877 743
Note: This food is not a medicine, it does not replace medicine