Cordyceps is a valuable and rare medicinal herb that many people want to use to treat diseases and improve the body. This medicine occurs in the natural environment, on the highlands in China, at an altitude of 4,000-5,000m. Therefore, the Tibetan cordyceps is very expensive. The higher the demand for users, the more natural cordyceps is, the less the number can meet. Therefore, cordyceps in Vietnam, Thailand, America ... have researched and successfully applied cordyceps cultivation.
Today, Ganoderma We will share with you 3 things to know about cordyceps in Vietnam. Surely through this article, you will understand more about this high quality Vietnamese pharmaceutical.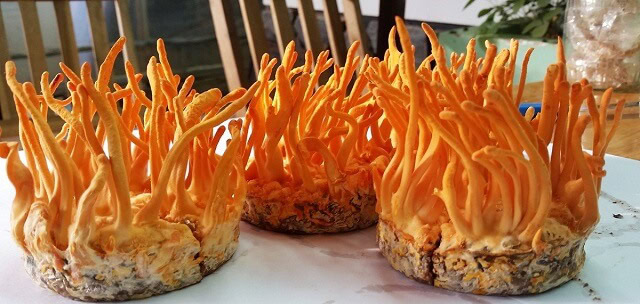 1. The reason for Vietnamese cordyceps is popular with many people
Not only natural cordyceps contain new active ingredients, able to treat cancer. Scientists have studied and confirmed that in artificial cordyceps still contains the active ingredient equivalent to the type grown in the wild.
When Vietnamese cordyceps are grown in good conditions, the active ingredients in it are better than Tibetan cordyceps.
Not only that, cordyceps in Vietnam are also produced from clean raw materials. At the same time, the number of artificially raised cordyceps is not limited. Users increasingly prefer to use Vietnamese cordyceps. In particular, the quality of Vietnamese cordyceps is not inferior to Tibetan Cordyceps but the price is much cheaper.
+ Note: 5 Things To Know About Natural Cordyceps
2. Uses and prices of Vietnamese cordyceps
Currently, the price of Tibetan cordyceps ranges from 1.5 to 1.8 billion for 1 kg. However, the source is very scarce. In Vietnam, it is very difficult to buy quality Tibetan cordyceps.
Meanwhile, cordyceps in Vietnam is much cheaper, only from about 60-120 million VND / kg. The medicinal ingredient in Vietnamese cordyceps is not inferior to Tibetan cordyceps.
At the current price of cordyceps in Vietnam, consumers can easily buy this rare medicine to treat diseases, make gifts, and nourish the body.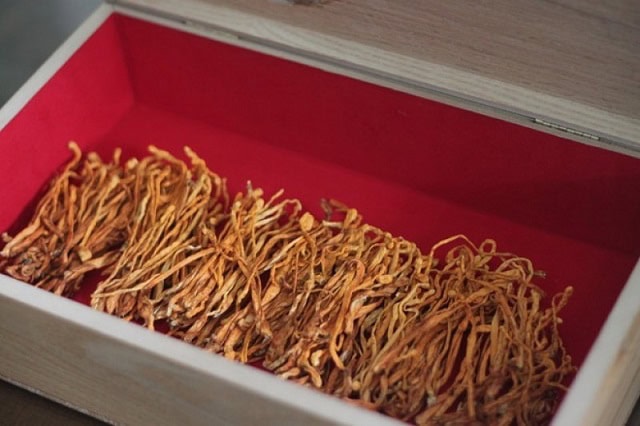 The great uses of cordyceps in Vietnam are:
Strengthen the body, strengthen the resistance.

Enhance metabolic activity in the body.

Promote physiological health in both men and women.

Support treatment of lung diseases such as asthma, bronchitis, pneumonia.

Repel signs of aging, beautiful skin.

Reduce blood cholesterol, regulate blood pressure.

Supporting the treatment of diabetes.

Support cancer treatment.
3. How to use Vietnamese cordyceps?
You can completely process Vietnamese cordyceps in the same way as processing Tibetan cordyceps.
Soak the cordyceps with warm water and eat directly.

Making whole savory tea.

Cordyceps decoction to drink instead of water daily.

Use cordyceps with red apples, bird's nest, honey, goji berries, velvet incense, ginseng ...

Soaking cordyceps wine with incense, ginseng, goji berry ...

Porridge, stew soup, soup, rake vegetables together with cordyceps.
+ Note: How To Properly Store Cordyceps
4. Where to buy cordyceps good?
Demand for using cordyceps is increasing, the price of cordyceps is quite attractive to traders. Therefore, they are willing to make sophisticated ways to fake for sale to consumers at "towering" prices. To buy Vietnam cordyceps with the best quality, you need to pay attention to factors such as:
The supplier must be trading in a transparent and publicly licensed manner.

The address of the supplier is clear.

Cordyceps in Vietnam must be reasonable, not high or lower than the general price of the market too much.

There are policies to protect customer interests.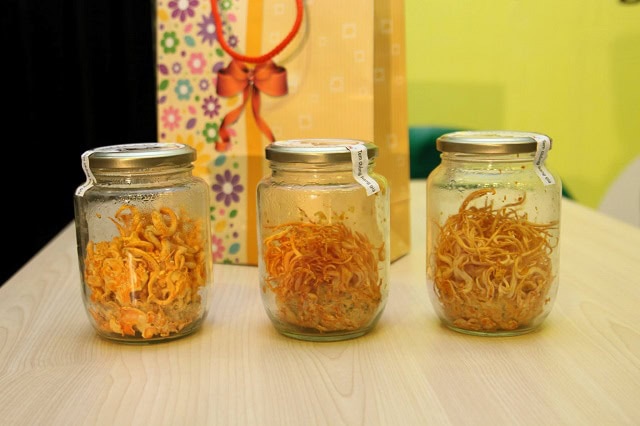 If you are looking for a reputable, quality cordyceps supplier. Ganoderma is where you can choose.
We are committed to the products we sell are of the best quality, cultivated in standard conditions and directly undertaken by our own engineers.
Because our products are self-cultivated, packaged and completely without intermediaries. Therefore, the price we offer is very reasonable and highly competitive in the market.
Cordyceps that we provide have been tested by the Ministry of Health, ensuring safety for users.
To learn more about Vietnam Cordyceps. You can contact us via the website address linhchinonglam.com. Thank you for your interest in tracking posts.
Related posts