Although it is not the dry season, thousands of people have gone mad because of hair loss. Hair loss is present in every corner of the house. Even mixed with food and utensils. Not to mention that, the brothers and sisters sooner or later will have to face baldness. Information Ganoderma Can aid in treating hair loss, baldness thus becoming the good news that everyone is looking forward to.
Why Ganoderma supports the treatment of hair loss and baldness
According to the sharing of Linh Chi Nong Lam - Nguyen Member of the technology incubation center of Nong Lam University in Ho Chi Minh City. Hair loss and baldness are not only unsightly, but also a warning sign that your health is in trouble.
Therefore, to overcome hair loss, baldness, it is imperative to solve problems from deep within the body. Ganoderma is the only herb that can handle this responsibility.
- 119 Pharmaceutical ingredients in Ganoderma when taken into the body will help regulate physiological function. In addition to improving resistance, Ganoderma also helps dilate blood vessels on the head, restoring hair follicles. At the same time improve hair loss, baldness. Just minimize the symptoms of headache, dizziness.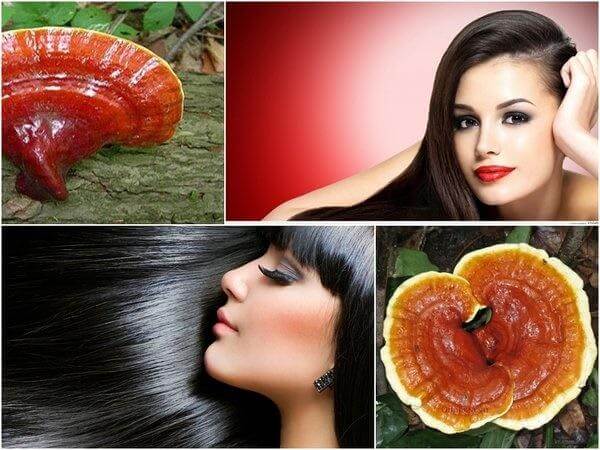 Ganoderma has many remarkable uses to prevent hair loss and baldness
- Important component in Ganoderma Polysaccharide has the ability to improve and strengthen the body's immune system. Help the liver detoxify more effectively, while preventing the aging process of cells. Symptoms of hair loss are therefore greatly reduced.
- Active ingredient adenosin in Ganoderma helps blood circulation and stability. As a result, cells will be provided with more nutrients. This is an important key to help us have a clear mind, no stress, no headache. When all these problems are fixed, the improvement of hair loss, baldness is only a small matter.
- In particular, Ganoderma has 2 active ingredients adenine and cellulose that have the ability to reduce cholesterol levels in the blood. G
Help prevent the formation and development of hormones that cause hair loss DHT.
+ Note: Support Treatment of Atopic Dermatitis thanks to Ganoderma
As mentioned above, Ganoderma has just helped the body be nourished. Medium stimulates hair growth, helps hair grow faster, thicker, healthier, smoother.
To achieve the above comprehensive effects, you can perform some good remedies from Ganoderma as follows:
Method 1. Support treatment of hair loss, baldness with reishi mushroom tea
You prepare 20-30 gr Ganoderma and 2 liters of clean water. Bring the mixture to a boil over at least 20 minutes. For tea to cool down then use.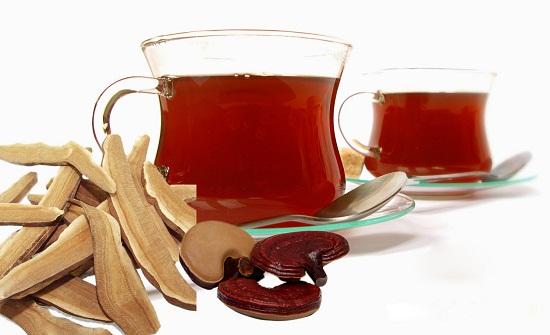 Ganoderma tea is both good for health and healthy hair
If you don't like the pure bitterness of reishi mushroom. You can put in licorice, honey, ginseng or artichokes…
Method 2. Prevent hair loss, baldness with minced meat Ganoderma soup
Ingredients: 100gr ganoderma mushroom, 100gr minced meat, 100gr straw mushroom, red onion, scallions, seasoning seeds, pepper, sugar, cooking oil.
Method: First, you marinate the meat with seasoning seeds and pepper. Ganoderma bring clean, sliced. Straw mushrooms bring in half.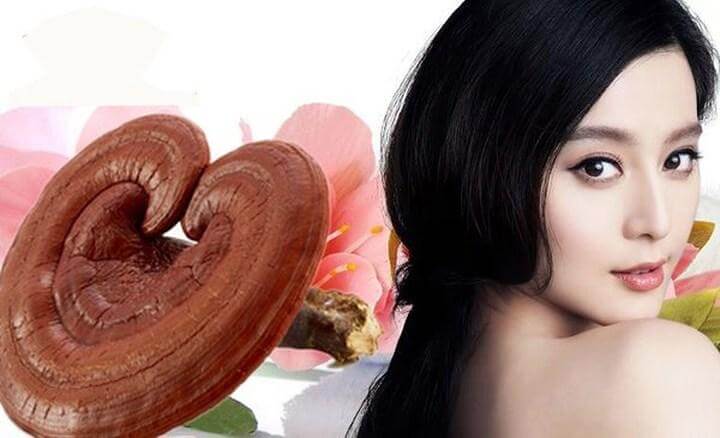 Be persistent use Ganoderma lucidum every day to achieve the best effect
Next, you fry the onion and marinate the meat in a quick stir. Put all the ingredients in a pot of water, boil for about 3 minutes and then turn off the stove and use.
With the amazing uses mentioned above, Ganoderma is a remedy for hair loss treatment, baldness is applied by many people.
To ensure the quality and origin, you can buy Ganoderma Ganoderma. The product has been granted CCI international certification and is being distributed in 63 provinces and cities across the country.
To find out more information or get answers to questions about Ganoderma Ganoderma, readers can visit the website: https://linhchinonglam.com/ or Advice Hotline 028.7107.6668 – 0938.877.743.
See more articles:
Ganoderma "Carved" Bone Pain Joint
The secret to beautiful skin thanks to Ganoderma Lucidum Everyday
The secret to a complete deep sleep from Ganoderma
Related posts