Cordyceps is known to many people not only because it can foster health, repel disease. This medicinal mushroom product is also seen as a luxury gift. One of the most sought-after cordyceps products that many people look for for their perfect quality and beautiful appearance is Kanghwa golden wooden box cordyceps. Want to know more about this product? Don't be quick to ignore the information Things to know about Cordyceps Kanghwa gold wooden box brand below.
1. The origin of the cordyceps Kanghwa golden wooden box
In countries around the world successfully applied artificial cordyceps farming model. Korea has always topped the list of volume, quality and reasonable prices. Currently, many cordyceps products originated from Korea on the market.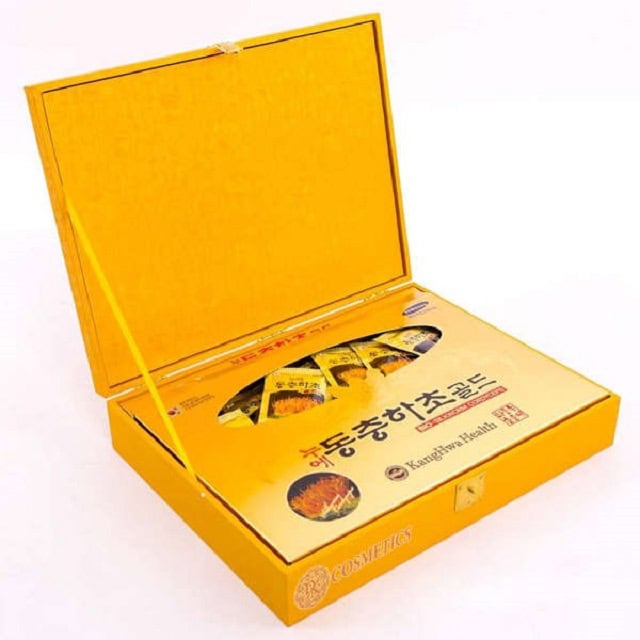 Cordyceps Kanghwa Korean wooden box is one of the famous products. This product does not exist in its original form of cordyceps, but it has been processed into an easy-to-use drinking water.
In Korea, processed cordyceps are subjected to rigorous testing. Cordyceps must be carefully selected right from the stage of input, preliminary processing in accordance with the process to remove impurities, prepared according to a modern, closed process. Because every stage of the cordyceps production of Kanghwa yellow wooden boxes is under strict supervision by experts, all are made by modern machines, so the process is accurate every bit.
+ Note: Correct Use of Cordyceps With High Efficiency
2. The ingredients inside the Kanghwa cordyceps yellow wooden box
Cordyceps Kanghwa gold wooden box brand includes 60 small packs inside. Ingredients are carefully selected, clearly and accurately quantified for each small product package. Details of the ingredients contained in the product:
This is also the largest proportion in Kanghwa Cordyceps. Cordyceps makes up 68% of the total internal content of cordyceps.
Cordyceps is made from the best quality cordyceps. The process to create high pasteurized corn is carefully monitored, ensuring food hygiene and safety.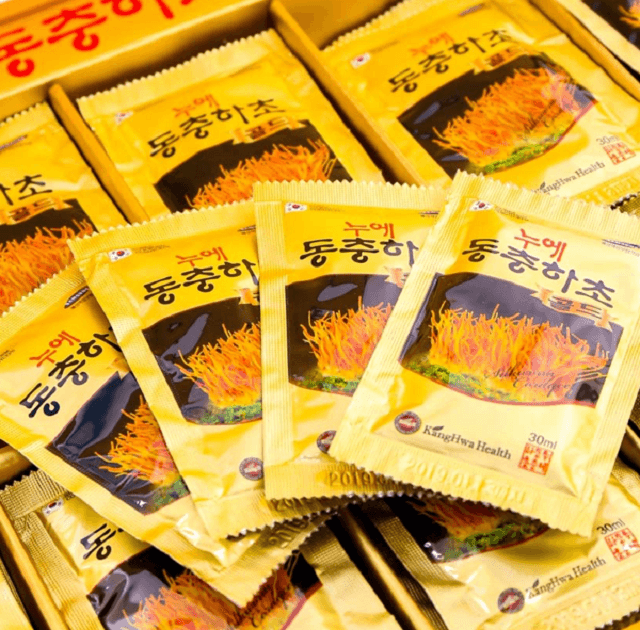 Grapefruit extract inside the cordyceps product of Korean Kanghwa yellow wooden box helps to increase the body's resistance, prevent premature aging.
Perfect for preventing colds, blood fats, helping to drain excess energy.
Ginger helps to warm the body, reduce blood cholesterol, visceral fat.
Support to increase vitality, repel aging, improve resistance.
Melaleuca root and root extract
Help improve health, nourish the body.
+ Note: 3 things to know about the best cordyceps
3. What is the use of Cordyceps in Kanghwa Golden Wooden Box?
People using cordyceps Kanghwa yellow wooden box will get the following uses:
Support to improve the immune system, improve health. People using cordyceps Kanghwa after a while will see a healthy body, less sick.

Using cordyceps Kanghwa yellow wooden box is also very good for the spirit, relieve stress. People who experience fatigue, anxiety, heart palpitations or palpitations all feel relieved when using this product.

People with frequent fatigue, asthenia using Kanghwa cordyceps are like taking functional foods to quickly recover.

Prevent disease, reverse the signs of aging.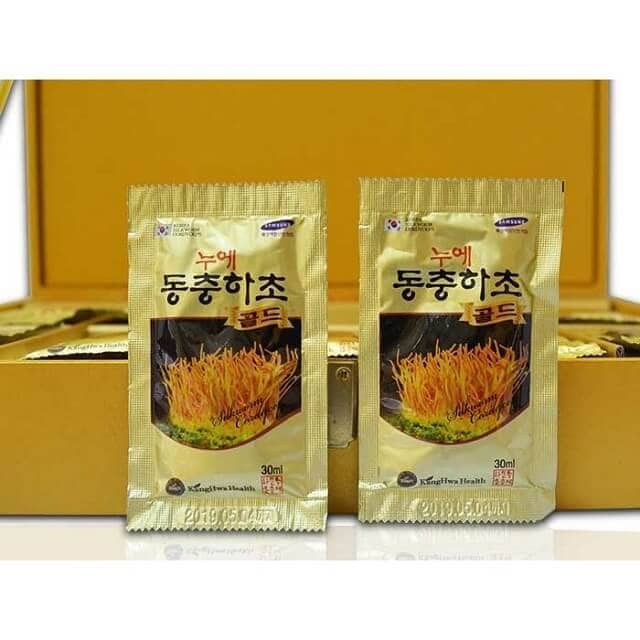 4. How to use Kanghwa yellow wood box cordyceps effectively?
Cordyceps products of Kanghwa yellow wooden box do not need to be processed or processed. Because it has been pre-prepared in the form of water, you only need to use the right dosage for you.
Cordyceps Kanghwa yellow wooden box is only a functional food, nourishing the body, not medicine. Therefore, the product is no substitute for a cure.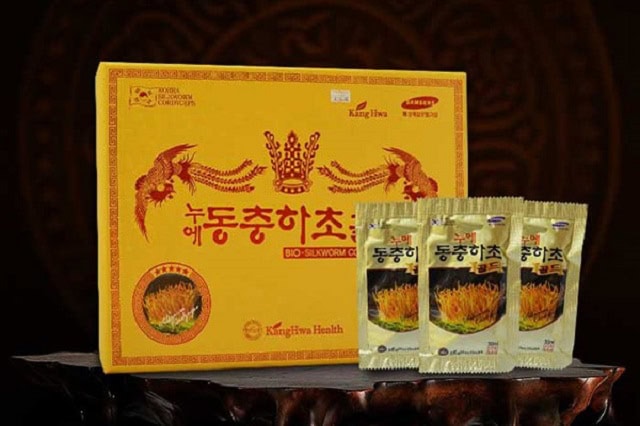 Users who want to feel the effectiveness of this medicine, need to be persistent about using it daily. The most appropriate dosage for users is 1-2 packages per day, drink 30 minutes before meals. Particularly for children under 12 years of age, pregnant and lactating women should consider when using the product.
Hope the information Linh Chi Nong Lam shared below will help you better understand this brand and cordyceps product from Korea.
You are viewing the article Top Things To Know About Kanghwa Golden Wood Box Brand Cordyceps in the category Brand Cordyceps In Vietnam of the Ganoderma. Any comments please leave a comment right below the article. Be sure to check out other great posts and share them with everyone!
Related posts