The market of buckets and chaos makes reishi mushroom farms face difficulties in output, especially the pressure to consume quickly due to long-term preservation, few deep processed products.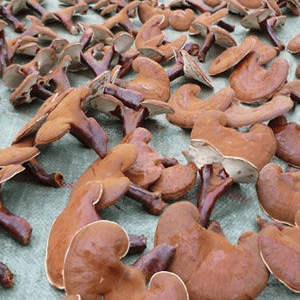 On the oriental medicine market in Ho Chi Minh City, many types of mushrooms are sold under the name of Ganoderma, making consumers dizzy. On the social network, there are also many distributors or farms of dried Ganoderma mushrooms sold at prices ranging from 1 to 3 million VND / kg.
Medicinal materials sold as agricultural products
According to a Ganoderma expert - who has long experience in the profession, Ganoderma market is falling into the situation of "hundred sellers, ten buyers". Ganoderma production in Vietnam in 2017 is estimated at 250 tons, an increase of 500 times compared to 1988. The number of mushroom companies and mushroom farms has increased significantly recently with about 10 companies and 40 farms in Ho Chi Minh City.
It is known that Ganoderma grown domestically currently accounts for 40 markets, the remaining 60 are imported from South Korea and China. Some mushrooms from China were completely extracted, then painted a glue on the surface for eye-catching colors. In the glue solution there are some supplements, when consumers cook up the taste similar to Ganoderma but are artificial.
Accordingly, up to 90 Ganoderma mushrooms are sold raw and cooked like tea, the product is monotonous. Products of deep processing such as Ganoderma tea, Ganoderma wine, Ganoderma mixed with honey ... are few. Some people also use Ganoderma to cook hotpot dishes but not much because the characteristic taste is slightly bitter, rings, not attractive.
Due to the absence of management delimitation by the Ministry of Health or the Ministry of Agriculture and Rural Development, Ganoderma is medicinal but is managed like agricultural products. With the scientific level as of today, it is not difficult to check the medicinal properties of Ganoderma to evaluate the quality, but no sanctions have been implemented. Therefore, Ganoderma is mainly sold raw, not fully promoted. Meanwhile, in Japan and Korea, Ganoderma is popularly used with many different ways of processing, helping to add value.
Dr. Duong Hoa Xo, Deputy Director of the Department of Agriculture and Rural Development, said the potential of medicinal mushrooms, including Ganoderma, is still great. Ho Chi Minh City has a policy to encourage reishi mushroom cultivation, but it is recommended that there should be a link in production and consumption.
Difficult to distinguish
Not only is it grown and sold as a mass product, but also Ganoderma has not been tested, including imported goods. Therefore, everyone advertises quality, there is no scientific basis due to the lack of basic research from the beginning. Although Vietnam has a standard for testing Ganoderma for quality determination, this standard has not yet been put into use to make the market healthier.
Recently, Assoc. Prof. Dr. Truong Thi Dep, former Head of Plant Department of the Faculty of Pharmacy, Ho Chi Minh City University of Medicine and Pharmacy, implemented the topic "Distinguishing some groups of Ganoderma lucidum in HCMC market". She collected 46 samples on the market, assessed the trierpenoid (characteristic of Ganoderma) and recorded 2 cases imported from China that are no longer medicinal.
According to Assoc. Prof. Dr. Dep, consumers are easily confused, difficult to distinguish because the types of mushrooms have similar ear shape. Through testing, Japanese Ganoderma cultivated in Vietnam has higher active content than Vietnam and Chinese strains. Therefore, many mushroom farms in Vietnam choose Japanese Ganoderma to grow and sell to many pharmaceutical companies, some of which are exported to Japan.
Ms. Le Ha Mong Ngoc thinks that people in the profession can look at the mushrooms to distinguish where they come from and how long they are harvested. However, sellers have many tricks or mix bad quality mushrooms with good quality mushrooms to bypass consumers. Therefore, consumers have to find reputable reishi sellers and brands to buy the right products. 
Related posts