Besides the use of cancer prevention and good for many organ systems, Lingzhi is also a "superior medicine" for the liver. Typically, Ganoderma lowering effect of Lingzhi is prominent and highly appreciated. Why can the fungus lower liver enzymes and use them like?
Increased liver enzymes are a problem that many people encounter. Untreated elevated liver enzymes can lead to chronic hepatitis, cirrhosis, even liver cancer and life-threatening problems. According to many studies also indicate, AST and ALT in liver enzymes high predict the life of patients is reduced and mortality increases from 21 to 78%. Therefore, besides the treatment of elevated liver enzymes, the use of Ganoderma lucidum also helps to reduce the liver enzymes effectively.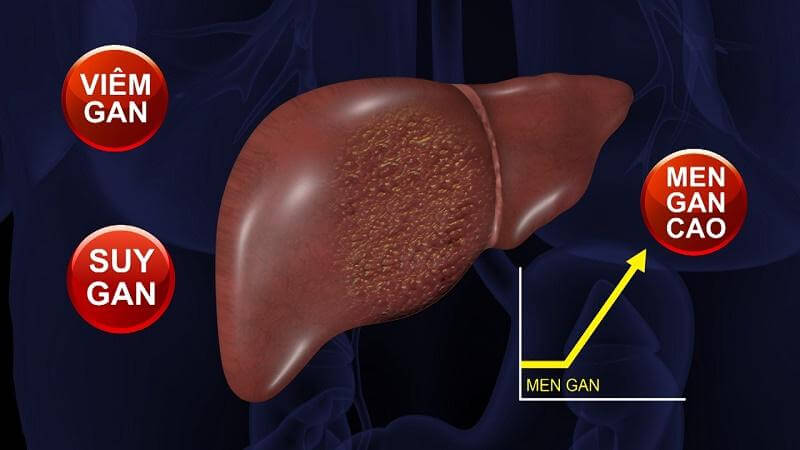 Increased liver enzymes and liver diseases are encountered
Why Ganoderma works to lower liver enzymes?
According to many studies have shown, Ganoderma contains many good components for the liver. Besides reducing cholesterol helps prevent and support the treatment of fatty liver disease, they also work to enhance liver function and lower liver enzymes. Important components - Polysaccharides and substances in the Steroid group in Lingzhi have a good detoxifying and detoxifying effect in the blood. Therefore, liver function is enhanced, limiting the growth of liver cancer cells. At the same time, they have the effect of neutralizing the viruses that cause hepatitis, inhibiting many types of bacteria that are harmful to the liver.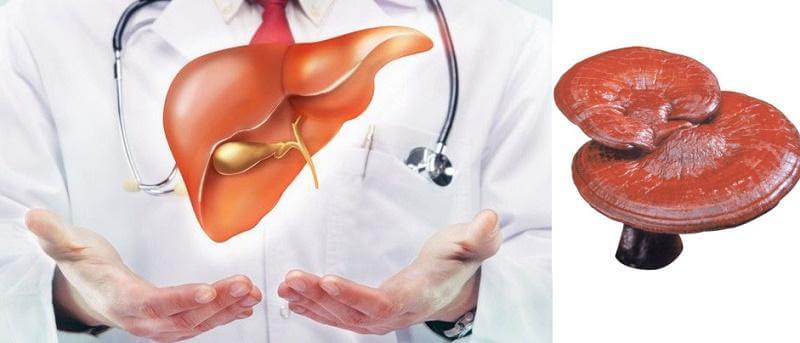 Ganoderma works to lower liver enzymes
In addition to polysaccharides, the composition of Ganoderma also contains Ganoderic acid with the presence of Triterpenes. This is the active ingredient with many effects on the liver. They work by inhibiting the histamine release of the body, thereby promoting oxygen uptake as well as enhancing the activity of the liver and reducing the effects of elevated liver enzymes.
Besides, using Lingzhi also supplements ingredients and nutrients that help inhibit the virus that causes hepatitis thanks to the Intereron hormone. Ganoderma helps strengthen the immune system of the cell as well as recover the damage of the liver as well as the damage of hepatitis cells.
Not only works to lower liver enzymes but also for patients being treated for liver disease. liver cancer, cirrhosis, ... the use of Ganoderma lucidum also helps reduce pain and improve the effectiveness of treatment. Good effects for the liver is also one of the outstanding uses of Ganoderma that not everyone knows.
Check out some of the other posts:
Warning Reishi Mushroom Made From Sawdust
Instructions to use Lingzhi to lower liver enzymes
Ganoderma to achieve the best effect, you should use red Lingzhi. Why so? Accordingly, red Lingzhi contains Polysaccharides and Triterpenes content is much higher than other types. These are two important components to help lower liver enzymes, so patients should pay attention.
Preliminary processing Lingzhi
Reishi mushrooms can be used for whole ears and for use, but this is not the best way and takes a long time to extract. Therefore, preliminary processing Lingzhi in some ways below before use will bring better efficiency.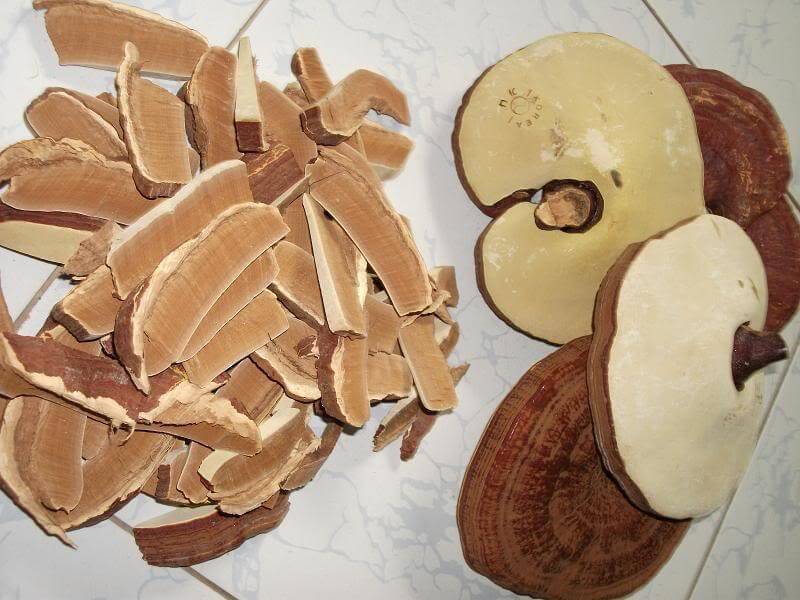 Ganoderma can be sliced or ground before use
Slicing: Using Ganoderma mushrooms sliced into moderately thin before use (can also be chopped).
Powdered pulp: Ganoderma powder can be crushed and used.
Lingzhi cooking water (Lingzhi tea)
Preparation: About 0.5 - 0.7g sliced Lingzhi, 1.5 liters of water, pot.
Doing:
+ First, put the sliced Linh Chi mushrooms into the pot and pour water in and boil.
+ Boiling water for 10 - 15 minutes is best.
+ Now the water is reduced to about half of the original amount and you drain and drink.
+ Drinking Linh Chi in the early morning on an empty stomach will bring the best effect and help detoxify the liver as well as reducing liver enzymes, good for the body.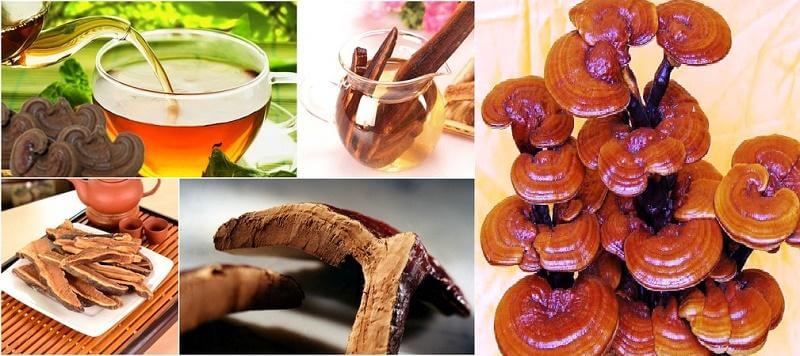 Lingzhi tea has the effect of lowering liver enzymes and good for health
Besides using pure Lingzhi to cook water, currently combining Lingzhi with mint or ventricular is also being applied by many people. Lingzhi has a bitter taste, so it can be combined with a little honey or rock sugar to make Lingzhi tea delicious and easier to drink.
Ganoderma effects in lowering liver enzymes and good for health but pay attention to choose the right kind of mushrooms. On the market today there are many types of fake Lingzhi sold without containing medicinal ingredients for health, even some have negative effects. Therefore, consumers should pay attention in choosing real Ganoderma to achieve the desired effect. In Vietnam, Ganoderma Ganoderma is a brand that many consumers choose.
Attention should be paid to choosing a reputable and quality Linh Chi mushroom buying address
Ganoderma Ganoderma Former member of Technology Business Incubation Center, Ho Chi Minh City University of Agriculture and Forestry, honored to receive the certificate of "Quality Safety CCI 2015". Besides, the above brand also achieved many certificates of food hygiene and safety, and certification of high quality Vietnamese goods. This is also a brand of mushroom produced under scientific process, research and strict quality control. Ganoderma Nong Lam is a reputable brand, received votes and appreciated from consumers.
Related posts