Ganoderma is like "elixir" of the human world. Because they work to prevent and support the treatment of many dangerous diseases. So what about chemotherapy for cancer. Can reishi mushrooms be used after cancer chemotherapy? Follow the article to listen to experts on this issue at Health Blog.
Does Ganoderma support treatment for patients after cancer chemotherapy?
Among herbs, Ganoderma is most appreciated, more than ginseng. With a simple and convenient way of processing with high effective treatment, Ganoderma is the main ingredient used by Eastern and Western medicine.
The effect of Lingzhi After cancer chemotherapy has been studied by many countries. The most prominent is the research of Dr. Hiroshi Kawai of Kinki University.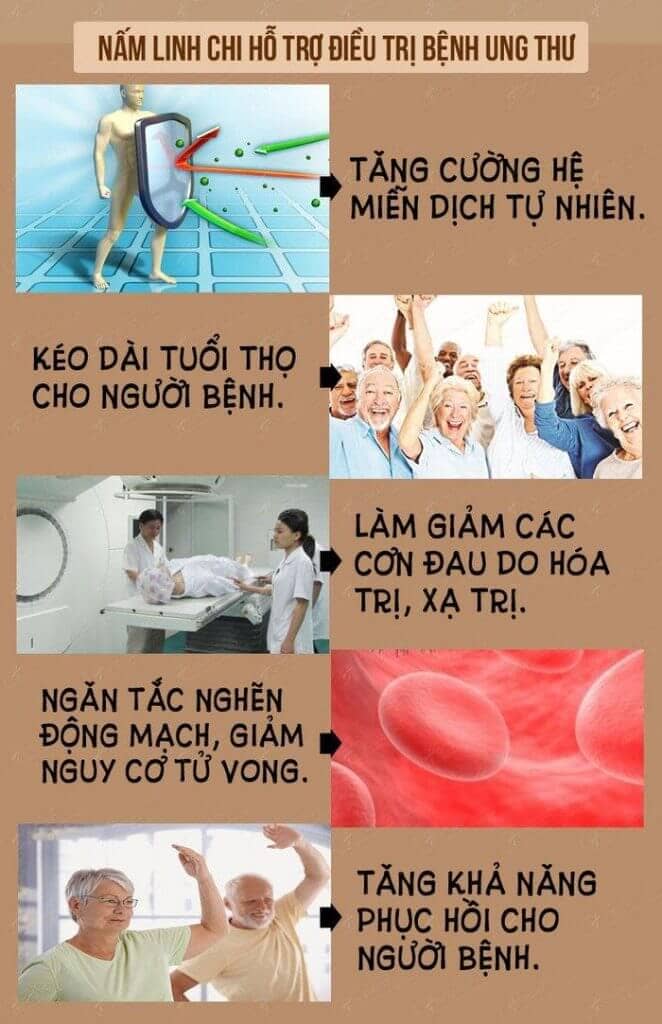 After cancer chemotherapy using Ganoderma can help the body recover quickly
Note: Prevention And Support For Cancer With Ganoderma
In his study, Dr. Hiroshi Kawai followed patients with side effects after chemotherapy. Just like patients who have been treated for cancer but not properly cared for. He feeds all these patients with reishi mushroom water every day.
After 20 days of the roadmap, the results are very satisfactory. All patients after cancer chemotherapy have improved health. The side effects caused by chemotherapy are greatly reduced.
Ganoderma also helps the body detoxify faster. Thereby, reducing the risk of invasive from the side effects of chemotherapy.
According to Dr. Hiroshi Kawai, Ganoderma is completely capable of supporting treatment after cancer chemotherapy. Helping patients get significant improvement results. This is good news for the sick and also new hope for scientific researchers.
Effects of Ganoderma after cancer chemotherapy like?
According to the sharing of Linh Chi Nong Lam - Nguyen Member of the technology incubation center of Nong Lam University in Ho Chi Minh City. Japan, China, Korea, Singapore ... are the leading countries in the use of Ganoderma after cancer chemotherapy. As a result, cancer patients recover soon, making more positive progress. As follows:
- For patients after breast cancer chemotherapy: Ganoderma helps improve the immune system. Thanks to that, the patient has the strength to cope with the disease, the appearance has more vitality.
- Patients after chemotherapy for stomach cancer: 119 The ingredients in Ganoderma help the body replenish important active ingredients. On the one hand, improves malabsorption status of the digestive system. On the other hand, improve resistance, help the body gradually recover.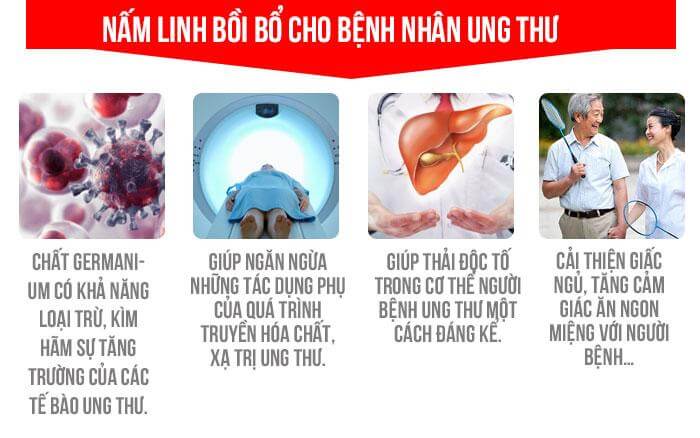 Ganoderma has many beneficial effects on patients after cancer chemotherapy
Note: Green Lim Mushrooms With Endometrial Cancer Patient
- Therapeutic effects after chemotherapy for tumors: Experimental results in many countries show that Ganoderma lucidum has many useful effects for patients after chemotherapy for tumors.
+ Prevent tumor size from growing. Help the body reduce pain, eat well, sleep well.
+ Increase the number of red and white blood cells in the body. Thus, reducing the damage caused by chemotherapy and radiation.
+ Ganoderma also has the task of eliminating free radicals, protecting cell membranes, preventing tumors.
+ Help the body quickly detoxify, reduce side effects caused by cancer chemotherapy. Preventing cancer coming back.
Note: Where To Buy Genuine Ganoderma
Instructions on selecting and using Ganoderma after cancer chemotherapy
In China, from 1997 to 2003, Ganoderma cultivation output has increased by more than 10 times. Aims to improve the health of the people.
In Singapore, most patients before, during and after radiation treatments and cancer chemotherapy are advised to use Ganoderma to improve resistance.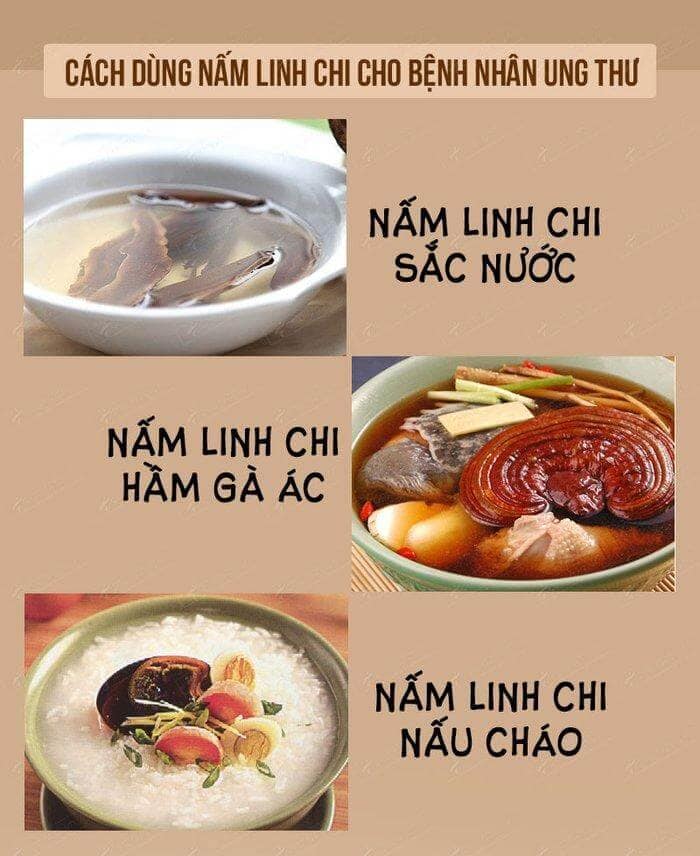 There are many ways to prepare Ganoderma for patients after cancer chemotherapy
In Vietnam, Ganoderma is currently a fairly popular product. Not only after chemotherapy for cancer but also to prevent and support treatment. Cosmetic industry also applies thoroughly preparations from Ganoderma.
Ganoderma Ganoderma is one of the reputable, quality mushroom brands that you can find and use. The product has been granted CCI international certification and has been trusted by consumers for many years.
You can use Ganoderma for drinking, porridge, soup, ... depending on your taste.
Ganoderma Ganoderma is currently sold in 63 provinces and cities across the country. To find out more information or get answers to questions about Ganoderma Ganoderma. Readers can access the website: Linhchinonglam.com or Advice Hotline 028.7107.6668 – 0938.877.743
See more posts mushrooms and health
Effective Oral Heat Surprise With Ganoderma
Acne Treatment Ganoderma Secret Recipes Keep Skin Smooth, Fresh
Top 08 External Reactions When Using Lingzhi Warning
Related posts