Lam Dong is considered a fertile land with suitable soil conditions for growing medicinal mushrooms Cordyceps. Currently, the most popular place to cultivate cordyceps in Lam Dong is Duc Trong, Da Lat. The brand of Cordyceps L'angfarm in Da Lat seems to have become a very familiar name. Today, this article Ganoderma will be dedicated to adding these Things to know about L'angfarm cordyceps. If you are also interested in L'angfarm cordyceps brand, do not hurry to skip the article.
1. Why Cordyceps L'angfarm is cultivated in Da Lat
It is known that cordyceps in Tibet grow outside the cold, harsh natural environment. At the same time, cordyceps in Tibet is also considered the product with the most outstanding quality today.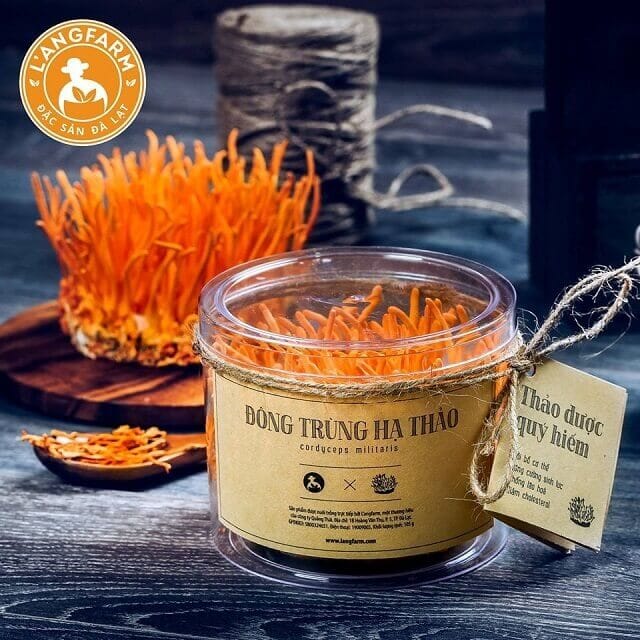 Experts in biotechnology and agriculture found that in Da Lat, the soil and climate conditions were similar to those of Tibet. Therefore, farming cordyceps here will have the best quality and output possible.
+ Note: Things to Know About Royal Brand Cordyceps
2. Process to create cordyceps brand L'angfarm
To create cordyceps branded L'angfarm high quality. The process of selecting farming materials must be strictly supervised. From the inoculation of mushrooms until harvest, L'angfarm cordyceps culture environment is completely closed. During 90 days of development, cordyceps is constantly monitored and inspected to detect and eliminate factors that affect product quality.
All L'angfarm cordyceps inoculants have been tested, to ensure no impurities. Cordyceps L'angfarm brand harvested in the right season but cordyceps have the most internal nutrients. Therefore, L'angfarm cordyceps brings high medicinal value, very good for health.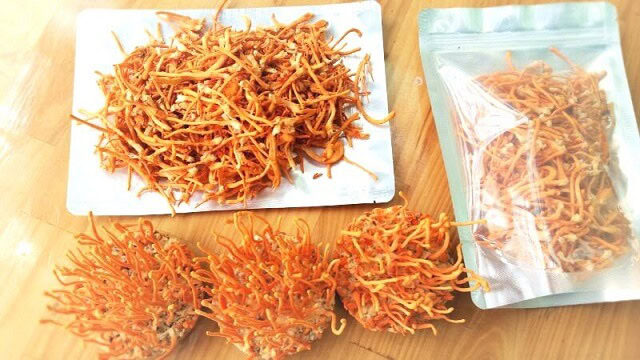 With dried cordyceps, the company has used sublimation drying formula to retain abundant nutrient content for the product. Cordyceps L'angfarm brand has full quality certificates, food safety and hygiene so users can rest assured use. At present, L'angfarm cordyceps is also designed in a beautiful form, very suitable for gift giving on special occasions.
3. Types of cordyceps with L'angfarm brand available
On the current market, L'angfarm cordyceps is biomass cordyceps, cultivated in a mixture of brown rice flour, bean sprouts, and other locally grown cereal flour components. Cordyceps harvest will use the fruiting body to provide products to customers.
Currently, the cordyceps brand L'angfarm has fresh and dried fruit. With dry type, the user can use for 1 year without compromising on quality. Dried cordyceps product brand L'angfarm is dried, with more than 90% of nutrients in cordyceps are retained. Therefore, all products of L'angfarm cordyceps bring high nutritional value.
+ Note: Miraculous Effects Of Cordyceps On Men
4. What are the uses of L'angfarm-branded cordyceps?
L'angfarm's cordyceps products bring great benefits to users such as:
Improve the immune system, enhance resistance to prevent viral and bacterial diseases.

Treats kidney and liver diseases and restores damaged cells.

Improve blood circulation.

Help the digestive system work effectively, absorb nutrients better.

Support to prevent cardiovascular diseases.

Help the body fight the aging process, limit old age diseases, extend life expectancy.

Improve physiological function in both men and women.

Support effective treatment of chronic diseases.

Make sure your body is always refreshed, increasing its ability to remember and concentrate.

Strengthen the body for depressed people.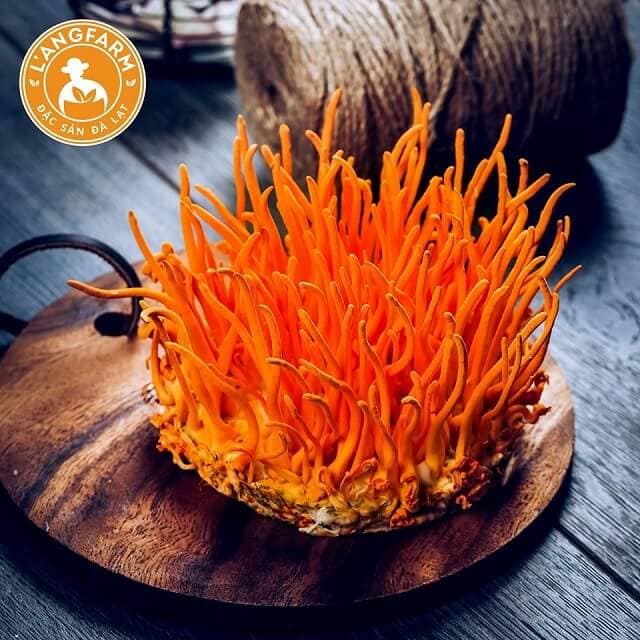 5. How to use L'angfarm cordyceps and how to preserve them
L'angfarm cordyceps brand is good, benign, so you can use every day. Fresh, dried cordyceps under the brand L'angfarm are easy to process, can be added to many dishes of water, food.
However, no matter how you use cordyceps, you should pay attention to the dosage. Especially not for children under 12 years old, pregnant and lactating women.
Just now is what Ganoderma Would like to share with you about Cordyceps brand L'angfarm. Hope you will have more useful information about this brand of cordyceps.
Related posts