Red Lingzhi mushroom It has long been known by users as a kind of "miracle" precious for health and beauty. Therefore, almost everyone is interested in how to use Ganoderma effectively. In this article, Ganoderma will share with you 5 how to use red Ganoderma bring high efficiency Best. If you are also interested in this issue, do not rush to skip our article.
Use sliced red lingzhi to cook drinking water
For red Ganoderma, the simple way of making it effective when using it is slicing and cooking water. Users only need to cut Ganoderma into thin slices, wash, boil with water and drink instead of filtered water daily.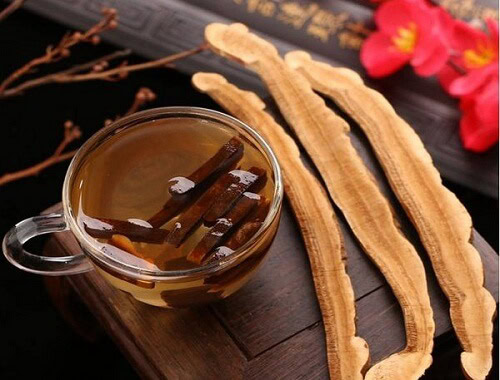 This is how to cook Ganoderma juice for patients with grade 3 fatty liver and cancer patients. With this method of cooking, each day use at least 120 grams of Ganoderma, used continuously for many days.
This is a way to cook water to prevent cancer, liver or other diseases. Dosage of 20-50 grams per day and should be used continuously.
+ Note: How to Use Red Ganoderma Efficiently
Use red Ganoderma powder into powder
To grind red lingzhi into a powder, you can rely on the help of a dedicated blender. Ganoderma when grinding must ensure no more wet, jars containing mushrooms after grinding nor water.
Ganoderma powder can be used for a long time, so you can grind it to use gradually to save time.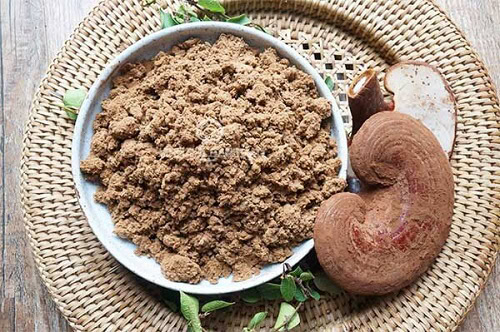 Ganoderma powder can be used as follows:
Put Ganoderma powder in filter bag to brake with boiling water and drink.

Soak Ganoderma powder with honey in storage in the cooler of the refrigerator. Can be used after soaking for about 3 months.
The use of Ganoderma powder when used in this way is: Supporting to prevent cancer and liver disease, stomach disease, support the treatment of diabetes ...
Use red lingzhi to make soup
Ingredients to make this dish include:
100 - 200 grams of red lingzhi.

1 sliced carrot.

3 bowls of vegetable broth.

1 little cornstarch.

Spice.
How to do: After Ganoderma has been sliced thinly, put in a pot of boiling broth. After about 30 minutes, add the carrots and simmer until soft. Corn flour diluted with water, then pour into the stew pot, stir well until the pot of water has a uniform consistency. After turning off the stove, lift the pot of red lingzhi soup in and out of the cilantro and pepper.
+ Note: Scientific value of Ganoderma
Soak Ganoderma wine to improve health
Many people choose to use Ganoderma alcohol to nourish the body, prevent and support the treatment of a number of kidney, liver and joint diseases.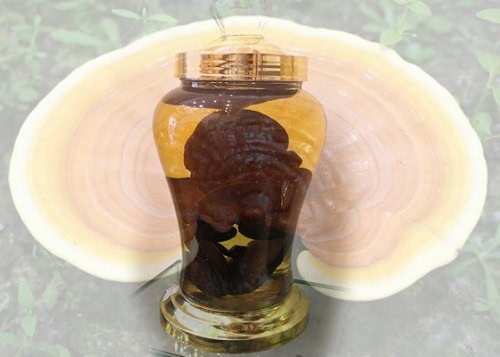 Currently there are 4 popular Ganoderma wines that are used by many people:
Ganoderma red wine brand longan: Support blood tonic, kidney and enhance digestive function.
+ Ingredients: Ganoderma, longan, Ha Thu o o che, jujube, bare skin, pharmaceuticals, ginseng, dong quai, royal states, field, and refined royal
+ How to do: Scatter the ingredients> refill the wine> Soak in a glass jar for 20 days> Take the alcohol to drink.
Ganoderma glutinous rice wine: Helping the body robust and tonic
+ Ingredients: Glutinous wine, sliced red lingzhi, longan, jujube, red apple.
+ How to do: Wash and drain raw materials> soak with sticky wine> After 7 days can drink.
Ganoderma wine pure: Supporting improve insomnia, fussy eating, nervous breakdown.
+ Ingredients: Sliced red lingzhi, white wine
+ How to make: Soak the 2 ingredients in a glass vase for 20 days, so drink at dinner, drink about 20ml.
Ganoderma red ginseng alcohol: Has effects on treating long-term asthma, tonic gas, chronic tracheitis.
+ Ingredients: Sliced red lingzhi, ginseng and white wine.
+ How to do: Soak alcohol for 20 days and use every day about 20ml.
+ Note: Where to buy red lingzhi where to ensure quality?
Use Ganoderma to cover mask
Another way of using red lingzhi that we would like to share is to use Ganoderma to face. You can use Ganoderma powder in combination with natural ingredients such as unsweetened yogurt, honey, chicken eggs ... to help smooth and anti-aging skin.
To buy the best quality red reishi mushroom with the right price, don't forget to contact us Ganoderma ours. We are committed to providing our customers with the best products.
Related posts