Ganoderma It has long been known for its great health benefits. Currently, Ganoderma lucidum on the market is often sold as a raw material for convenience to use according to the purpose of each customer. Today, Ganoderma will introduce to you 5 using Ganoderma red whole ear the most effective. To learn more about these uses, do not rush to skip our article.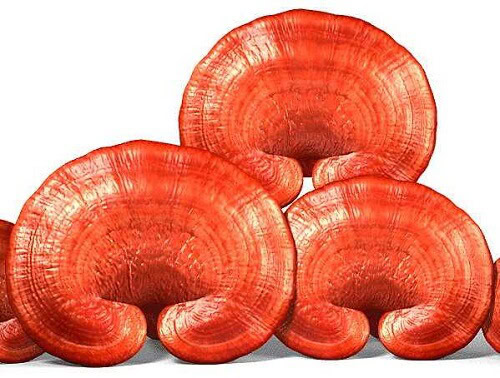 5 ways to use red Ganoderma best resource
It is known Red Lingzhi mushroom with features such as: The taste is a bit bitter, the fragrance is mild and somewhat difficult to drink. Therefore, to feel more comfortable to use and to bring health benefits. Many people choose to combine Ganoderma with other ingredients. Here are 6 ways to use red lingzhi mushroom according to Eastern Medicine.
Boil water
One of the most effective ways to use red Ganoderma is to cook drinking water. You only need to use 50g of washed lingzhi cooked with boiling water, let cool and drink instead of filtered water daily.
For the first time, cook red lingzhi with 1 liter of water, when the water boils, turn down the heat, and about 800ml of water is extracted.

Using scissors to cut out the lingzhi ear, add 1 liter of water to cook and together, wait until 800ml of water is still extracted.

Continue to cook the same thing again.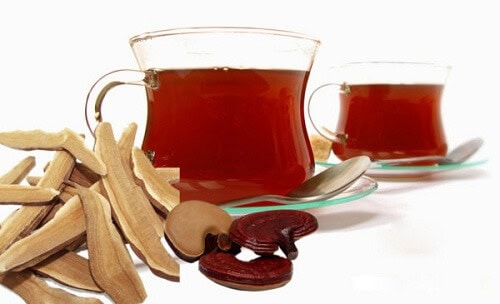 The red Lingzhi juice collected after 3 cooking times can be kept cold enough for the machine and drink gradually throughout the day. Particularly Ganoderma residue after cooking, you can take it out to dry and use to cook bath water, because it works very well for skin and hair.
+ Note: How to Grow Red Reishi Mushroom Bring High Yield
Grind whole red Ganoderma into powder
You can also grind the raw red lingzhi into powder, place it in a filter bag, and dampen the water like tea. If possible, you should mix Ganoderma powder directly with boiling water to drink the residue, it will get a better use.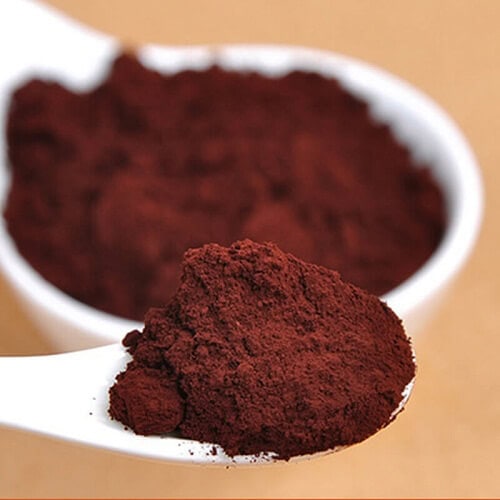 Use red lingzhi mushrooms to soak the wine
Ganoderma red ear after washing, drained, soaked with 2 liters of white wine about 39 degrees. Wine after tightly closed, to a cool place, after about 30 days can be used. Ganoderma wine soaked for as long as possible, the best time to use alcohol is after dinner, should use about 20ml.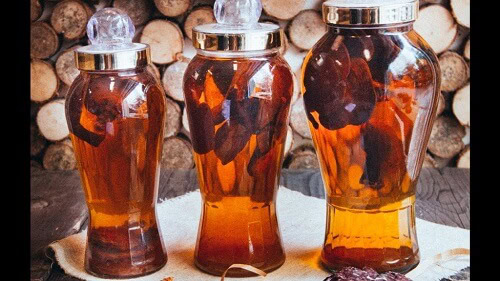 Whole red lingzhi pulverized into powder to make a mask
Ganoderma powder after grinding, mixed with honey, egg yolk or unsweetened yogurt to apply very well face.
+ Note: Instructions to use Ganoderma correctly for each subject
Use red chi Linh mushrooms to cook soup
You can combine Ganoderma with soups, stews or soups to eat. The mushroom soup made from Ganoderma is very suitable for those who are new to illness, sick, old and weak.
Note the side effects when using Ganoderma to fortify
Undeniably, Ganoderma is very good for health. However, if using Ganoderma is not the right method and the right dose, it will be difficult to avoid side effects. Most often, the side effects of Ganoderma cause are:
Some cases of using Ganoderma powder improperly can affect the functioning of the liver.

Using Ganoderma overdose can also cause side effects such as: Dry mouth, abdominal pain, throat and nose will be itchy, nosebleeds.

People with unsuitable conditions when using Ganoderma soaked in alcohol can lead to a rash.

Ganoderma spores can cause allergies to some unsuitable people.
Whole red reishi mushroom used improperly can cause side effects
When to consult a doctor if you want to use red Ganoderma?
Some cases if you want to use red Ganoderma need to consult with your doctor that:
Women who are pregnant or breastfeeding.

People who are treating diseases with medicines or taking any other functional foods.

People who are allergic to any of the ingredients in Ganoderma.

People who are sick or have any other disorders of the body.
+ Note: 5 ways to soak red Ganoderma wine and great benefits for health
Buy lingzhi where quality assurance?
On the market today there are many places offering red Ganoderma. However, not all suppliers are guaranteed to bring customers the most quality reishi mushroom products.
If you are wondering where to buy red Ganoderma to ensure quality, please look to Linh Chi Nong Lam.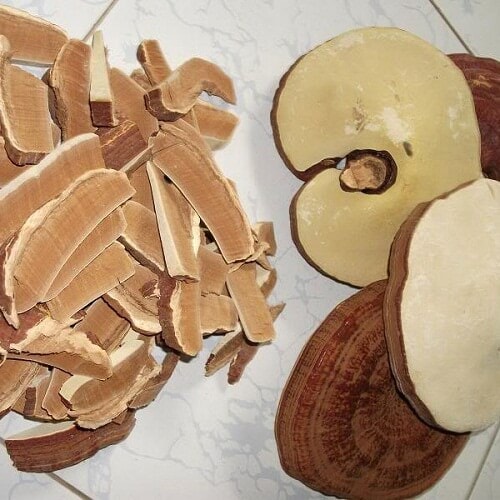 With a team of professionals in the farming and care of Ganoderma, we are always committed to the quality of the mushrooms we provide. Especially, we have our own mushroom farm, do not import products through intermediaries, so the price is highly competitive in the market. You can contact us directly Ganoderma to receive information on most specific case advice.
Related posts