Cordyceps Is Gaia brand name the product you are looking for? Why in the cordyceps market, Gaia brand is always a name that many people mention and choose? We invite you to explore the article below to learn more information about cordyceps brand Gaia. If you are also interested in branding this product, do not rush to skip this article.
1. Brand name of cordyceps Gaia
Speaking of the Gaia brand, people think of a unit specialized in providing clean cordyceps products, meeting quality standards.
Gaia has employed leading engineers and experts to concentrate on researching and applying cordyceps cultivation. After a fairly long time, through many experiences, thoroughly studying each aspect, the Gaia company has succeeded in cultivating artificial cordyceps.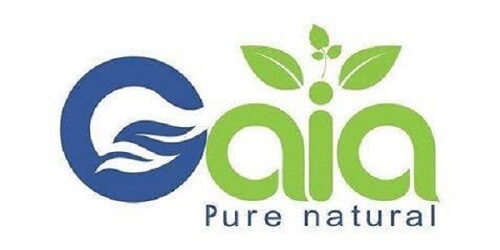 Gaia cordyceps mushroom is cultivated in a sterile, closed environment. However, the conditions affecting the laboratory cordyceps mushrooms are designed to resemble the natural Tibetan environment. Therefore, Gaia cordyceps mushroom is best developed. Not only that, the cordyceps products of Gaia Farming are completely not affected by growth stimulants and plant protection drugs. Therefore, the source of cordyceps in Gaia always ensures food safety and hygiene with high pharmaceutical content.
+ Note: Things to Know About Cordyceps Bao Khang Brand
2. The cordyceps products of Gaia brand
Currently, Cordyceps Gaia brand offers users a variety of health improvement products. The most common are:
The first product of the Gaia brand that is highly appreciated for its quality is fresh cordyceps. With this cordyceps form, Gaia harvested at the time when cordyceps existed most nutrients. However, fresh products can only be stored in the refrigerator compartment for a maximum of 2 weeks of use.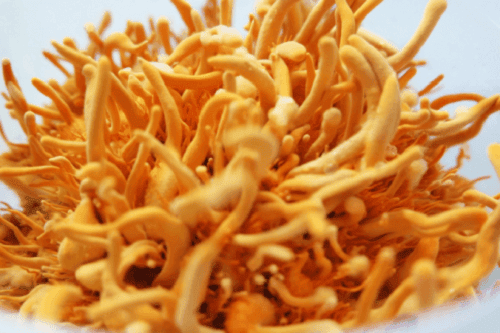 Gaia cordyceps brand also provides users with dried cordyceps products that are dried by advanced technology. Thanks to that, the content of nutrients inside is retained almost completely.
With Gaia dried cordyceps, if stored well, the shelf life can last 1 year.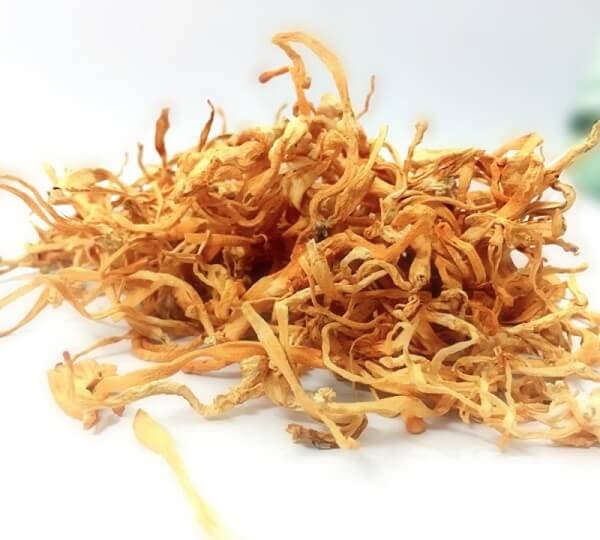 Cordyceps Gaia brand also has a product that is well known and preferred to use is cordyceps drink Gaia honey.
For busy people, there is no time to process filamentous, cordyceps. Using Gaia honey cordyceps drink is both convenient and effective for health.
In jars of Gaia cordyceps water includes ingredients such as: Gaia cordyceps, Korean ginseng, pure forest honey, red lingzhi, some other rare medicinal herbs in certain quantities.
The use of the product is highly appreciated because it not only helps to nourish the body, treat diseases and help beautify the skin, fight aging.
+ Note: Is The Price Of Cordyceps Expensive
3. Is the use of cordyceps Gaia good?
Gaia Cordyceps is considered to be good, benign and suitable for many users. The main uses of products with Cordyceps composition of Gaia brand are:
Support to improve health, enhance resistance and immune system of the body.

Helps the body eliminate symptoms of drowsiness, fatigue.

Support recovery of debilitated body.

Effective in the treatment of chronic diseases.

Against the signs of aging of the body, extending life.

Helps the spirit of refreshing, clear mind.

Help protect kidney cells.

Reduce the amount of cholesterol in the blood.

Lowering blood pressure and regulating blood pressure for people with high blood pressure.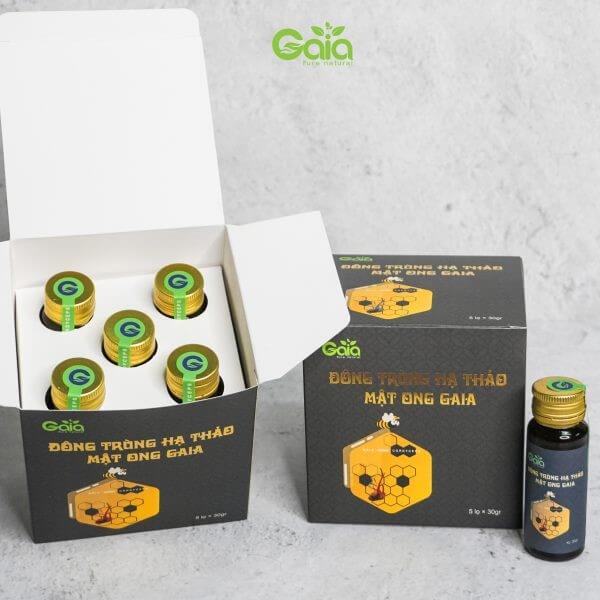 4. How to use Gaia cordyceps?
Gaia Cordyceps can be processed and used in many different ways. Particularly for cordyceps Gaia honey, you need to use the right dose, 10ml of cordyceps water mixed with 100ml of warm water. The product can be used for children from 5 years old.
To best preserve the product, you should cover the lid after each use and put in the cool compartment of the refrigerator. The product has a shelf life of only 6 months from the date of manufacture, so you need to pay attention to the usage time to avoid using expired cordyceps.
Hope with the information Ganoderma share. You can learn more about the cordyceps brand Gaia and their products.
Related posts